News
Find the most up-to-date information about Judge Terri Jamison! View endorsements and recommendations! Read news articles and press releases! Hear interviews to learn about Judge Jamison's philosophy as a jurist!
Monday, February 15, 2021 10:47 AM
The origin of Presidents' Day lies in the 1880s, when the birthday of President George Washington—commander of the Continental Army during the American Revolution and the first president of the United States—was first celebrated as a federal holiday. George Washington's birthday, February 22nd, and Abraham Lincoln's birthday, February 12th, were combined to become known as President's Day when the holiday was moved to Monday and unified. This year, we celebrate President's Day with new leadership's commitment to unify the country with a diverse staff and cabinet that reflects our multi-cultural nation.
---
Friday, November 27, 2020 7:05 AM
National Association of Social Workers Ohio Region 5 named Judge Terri Jamison Elected Official of the Year. She is slated to be recognized at their annual meeting at a date to be determined. The recognition will be done virtually due to COVID-19 restrictions on crowd numbers.
Jamison stated, "it is wonderful to be recognized for pouring into the lives of others and doing a job you love. I will treasure this award as I move to the next chapter of my life at the Tenth District Court of Appeals."
---
Wednesday, November 4, 2020 12:11 PM
A Franklin County Juvenile Court judge defeated a three-term incumbent for a judgeship on the county appeals court.
"I think I am qualified to do the job and voters of Franklin County have elected me twice before. I believe they have confidence in me. I thank God for every time someone chooses me," Jamison said.
---
Friday, October 16, 2020 8:31 PM
Endorsed! NASW-Ohio
Judge Jamison endorsed by NASW-Ohio Chapter for making opportunities for students from Ohio State College of Social Work to intern at Franklin County Domestic Relations-Juvenile Court in various departments. The interns contributed to the growth of the Compass Program, working with unemployed parents who owe child support linking them to community partners.
---
Monday, October 12, 2020 7:50 PM
ENDORSED!
Thank you to the Sheet Metal Workers Local #24 for your endorsement! #labor #union
---
Tuesday, October 6, 2020 8:39 PM
Jamison is the choice of Our Revolution! Judge Jamison has reached all voters with the message to unite to take this 10th District seat. Original jurisdiction over appeals for the entire state in worker's compensation cases, appeals from the Court of Claims, and the Ohio Attorney General's office for victim of crime compensation is of interest to all voters! #VoteJamison
---
Saturday, October 3, 2020 9:45 AM
Endorsed!
Endorsements are still coming in! Judge Jamison is the choice of OCSEA !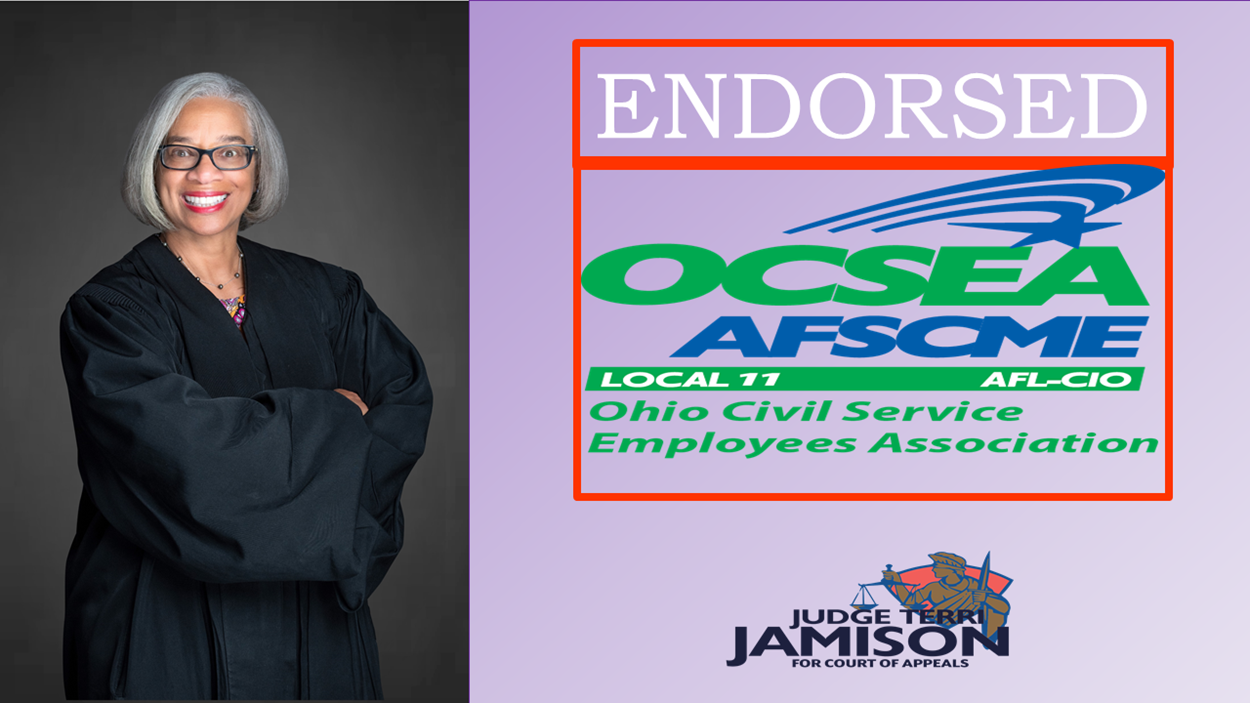 She should be your choice too!
---
Friday, October 2, 2020 3:01 PM
Highly Recommended
Judge Terri Jamison is Highly Recommended by the Central Ohio Association of Justice, a group of trial lawyers whose opinion is valued. Having been a trial lawyer, it is not surprising that the association recognized that she is deserving of the highest recommendation.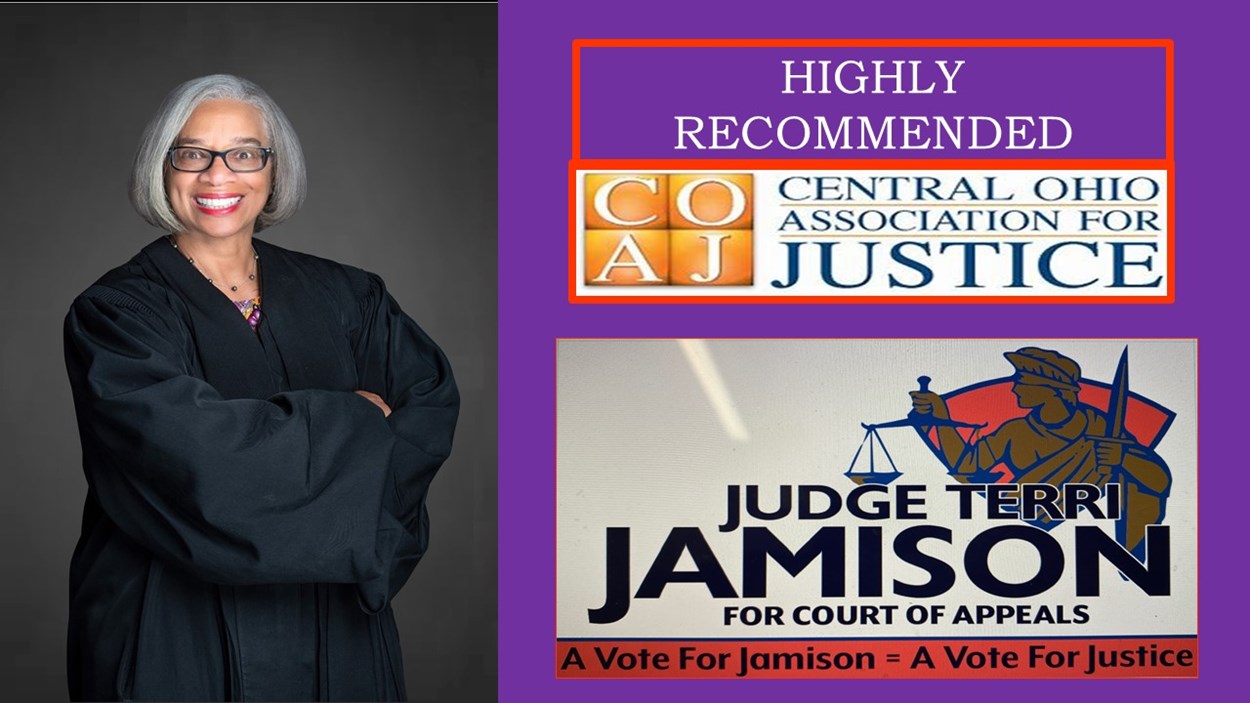 ---
Friday, September 25, 2020 8:22 PM
ENDORSED! PRO-CHOICE!
Jamison endorsed by Vote Pro Choice!
---
Monday, September 14, 2020 7:58 PM
ENDORSED! ADELANTE!
Jamison's representation of Latina juveniles in Special Juvenile Immigrant Status while in private practice is a factor considered in her endorsement. She has been a speaker for Human Trafficking of juveniles and Femergy.
---
Friday, September 4, 2020 8:35 PM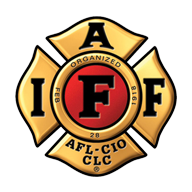 ---
Friday, August 7, 2020 12:30 PM
Judicial Candidates give insights into their candidacy! Hear how Judge Jennifer Brunner, Judge John O'Donnell, Michael Mentel and myself have served the community in the past and how we hope to impact the community if elected this year!
---
Friday, July 24, 2020 12:01 PM
On July 24, 2020, Judge Jamison joined She Should Run a non-partisan, non-profit organization in Washington, D.C. to be interviewed by local business owner Jeni Britton Bauer, founder of Jeni's Splendid Ice Cream, and her fellow elected official Columbus City Auditor Megan Kilgore. The interview was to speak frankly about the purpose that pulled them out of their jobs or careers into a life of public service. They speak boldly about campaign challenges, obstacles and how to overcome obstacles, and the reward of being public servants here in Columbus and Franklin County.
---
Thursday, February 20, 2020 12:00 AM
Judge Jamison was one of several community leaders that were selected to join the Franklin University Advisory Board for the Global Center for Healthcare Education. She joins the likes of Charleta Tavares, former Senator and Chief Executive Officer of Primary One Healthcare. Chosen by Dr. Chenelle Jones, Program Chair of the Public Safety programs within the College of Health and Public Administration. Judge Jamison and Dr. Jones have participated in many community panels throughout Ohio. They were panelists for Dr. Kimberly Crenshaw at Walsh University on the disparate treatment of women of color in the criminal justice system. Judge Jamison is a Franklin University alum with a Bachelor of Science degree in Business Administration, minoring in Human Resources Management.
---
Friday, December 6, 2019 12:51 AM
Judge Jamison was one of four female elected officials who participated at the John Glenn College of Public Affairs | Ready to Run Campaign Training. The panelists discussed the positives and the pitfalls of being women running for office.
---
Tuesday, December 3, 2019 12:00 AM
Judge Terri Jamison was the Juvenile Court Judge featured in the documentary PUSHOUT: The Criminalization of Black Girls in Schools which premiered at Gateway. To introduce the film, Judge Jamison relayed her own experiences during desegregation in elementary school in Welch, WV.
---
Wednesday, November 6, 2019 6:28 AM
Judge Jamison collaborates with CSEA in COMPASS Program. Unemployed Men and Women have the opportunity to link with community resources for job training, education, industry certifications and ultimately sustained employment. The Program was implemented in 2014 and continues on the fourth Thursday afternoon of each month.
---
Wednesday, September 11, 2019 12:00 AM
Judge Terri Jamison was invited to join Capital University Law School's Board of Counselors.
---
Monday, July 15, 2019 4:45 PM
I was very honored to be featured by Ohio Women In Government as Member of the Month in July of 2019.
Hometown: Welch, WV
Place of Work: Franklin County Court of Common Pleas - Juvenile Branch of Domestic Relations
Tenure at Current Place of Work: 6.5 years
OWIG Involvement: member for 2.5 years